[Election Coordination] Tokyo Gubernatorial Election 2020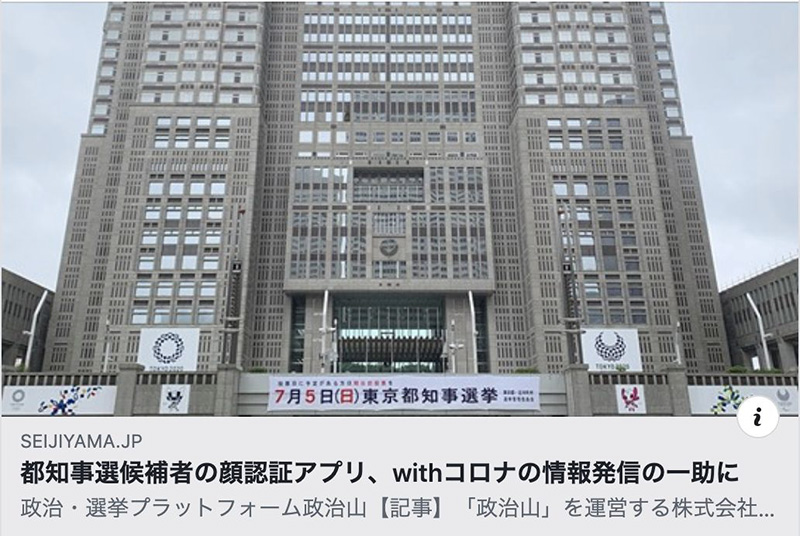 sVision Corporation (Headquartered in Delaware, U.S.A.; Representative: Hiroaki Sugawara; hereinafter "sVision"), a system designer and developer of new services using face recognition, AI, and AR technologies, has partnered with VOTE FOR Inc. (Head office: Akasaka, Minato-ku, Tokyo; Representative Director: Mitsuru Ichinosawa; hereinafter "VOTE FOR"), which operates the political and election platform "Seijiyama" and researches and promotes Internet voting in public office elections, to conduct a campaign for the Tokyo gubernatorial election (June 18, voting July 5). In response, we provided a free service that allows voters to view a candidate's profile, policies, manifesto, and other information simply by recognizing the candidate's face with a smartphone.
Provides a service that displays manifestos and other information when a candidate's face is recognized in the Tokyo gubernatorial election.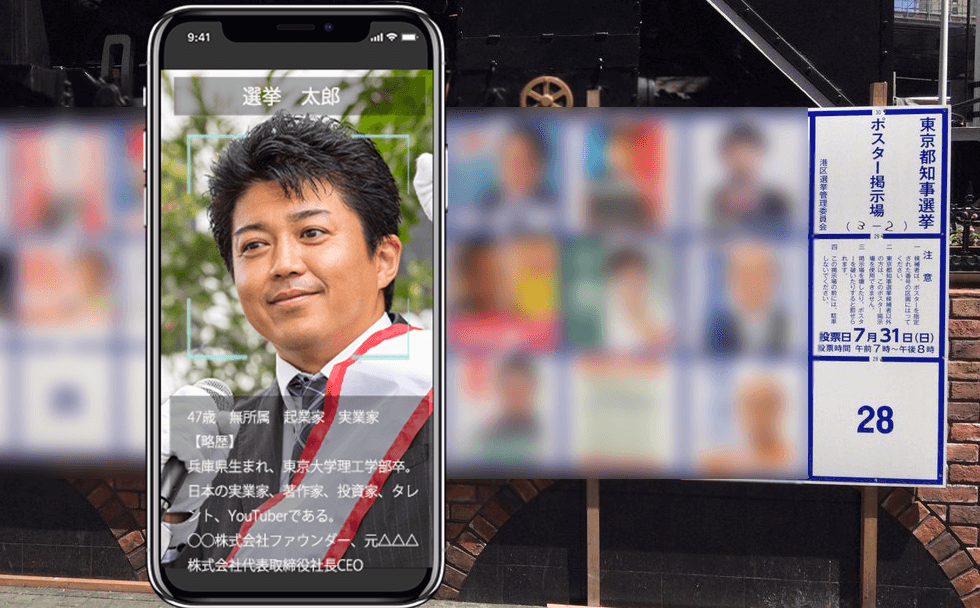 New Election Publicity for Corona with Facial Recognition App – #東京都知事選 #顔認証でマニフェスト #新しい選挙の方法
Background of Introduction
New forms of elections in with Corona
Tokyo gubernatorial election, with restrictions on campaigning such as rallies and speeches where people can gather.
Although the state of emergency declaration for the spread of the new coronavirus infection has been lifted, an unprecedented election campaign that suppresses human contact as much as possible is required, and the Tokyo gubernatorial election has started as candidates seek how to convey their arguments and how voters will know them amid restrictions on campaign activities such as public gatherings and speeches.
sVision Corporation, which provides Name Vision, an application that allows anyone to easily perform facial recognition using a smartphone, and VOTE FOR, a company that provides information on elections and candidates and creates a secure voting environment, have teamed up to provide a free service that allows users to view candidate profiles, policies, manifestos, and other information simply by recognizing their faces.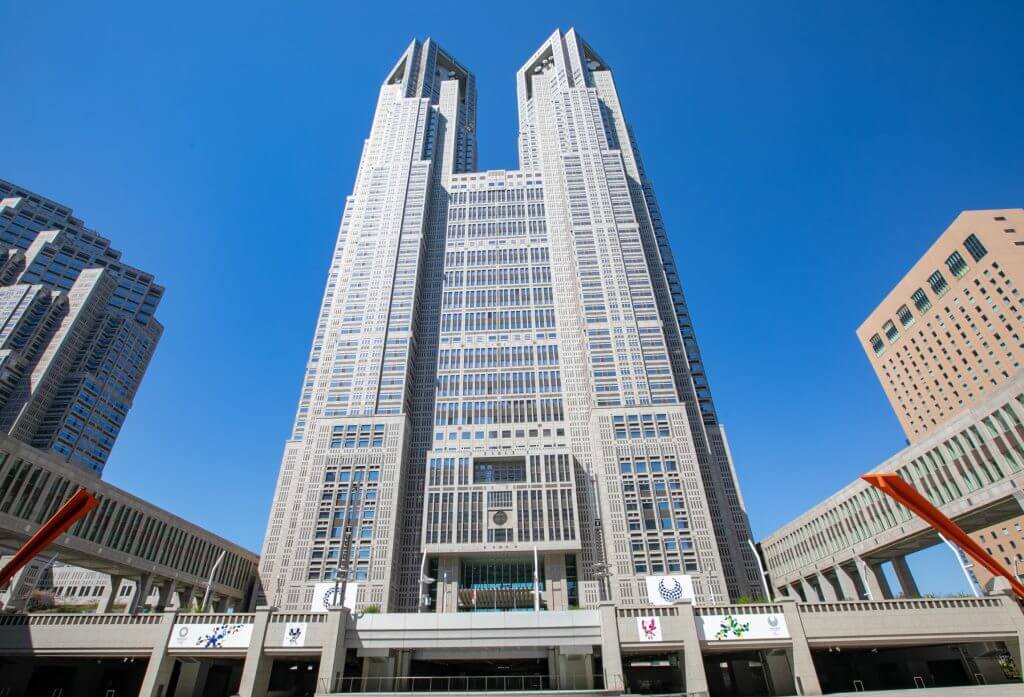 Decisive factor for introduction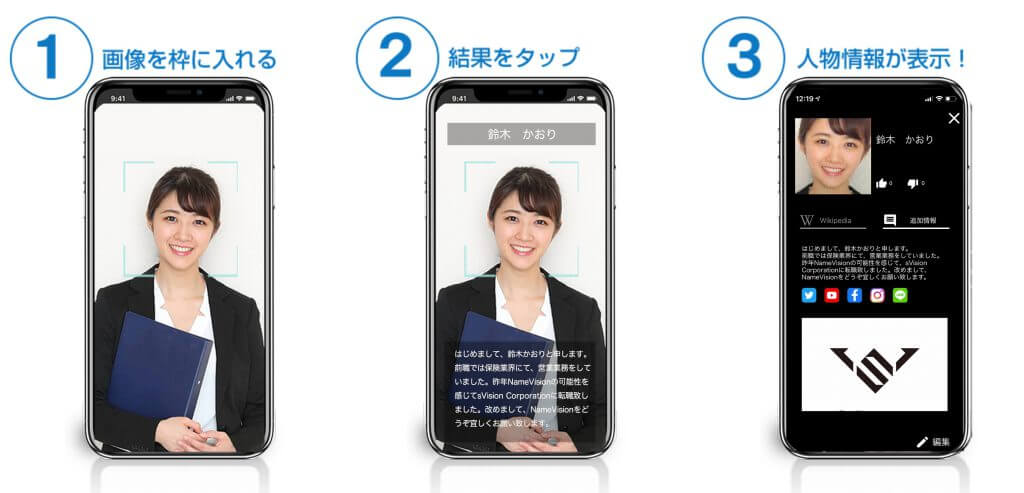 How to use
Manifests are displayed when a candidate's face is authenticated.
Simply launch the Name Vision app, frame the candidate list on the Tokyo Gubernatorial Election page of VOTE FOR's "Politics Mountain" as described below, the election poster, or the face of a candidate you see on the street, and tap the result to display the manifesto and other information.
Impressions of the use of the system
Issues such as not using one's own photo, as in the case of the candidates of the new Hollyoaks party.
It became clear that it is necessary to consider how to distribute election information using facial recognition, such as in the case of Taisuke Ono (with Osaka Governor Hirofumi Yoshimura) and Takashi Tachibana (with Yasunori Kagoike), who used double posters, and in the case of candidates of the new Hollyoaks party, who did not use their own facial images. In addition, depending on the facial image used for authentication, there were some cases in which the candidate database was not hit or a different candidate was displayed, and it was confirmed that there are issues that need to be addressed before the system can be used for fair and impartial information dissemination.
Effects of Introduction
The 9050 facial recognition mentioned.
The system was offered from June 22 to July 5, and a total of 9,050 facial recognition attempts were made. Most of the facial recognition was done by reading the face photos on election posters posted on the streets and in election bulletins distributed, but some facial recognition was also done using facial images obtained from TV and newspapers.
Of the 9050 face recognition attempts, the number of times a candidate was recognized and referenced in the database as a candidate for governor of Tokyo was 1091, with Yuriko Koike having the highest percentage at 20.53%, closely followed by Taro Yamamoto at 20.16%, and Kenji Utsunomiya at 7.14%.
By day, the highest number of authentications was 2579 on June 25, followed by 1347 on June 26, and 971 on June 27. By time of day, the highest number of times was 877 at 13:00, followed by 738 at 12:00 and 668 at 6:00.
Some users expressed their hope that the Election Commission would disseminate such new information (a man in his 40s), and others said, "I used my own face photo to authenticate and see information on candidates who look like me (and whom the AI determined to be similar)" (a woman in her 20s).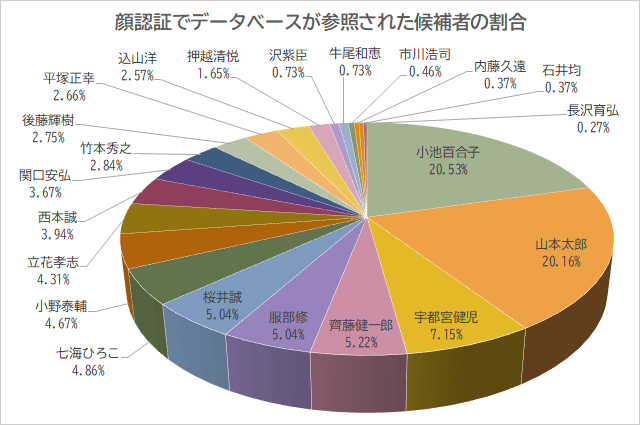 Future goals and prospects
In the future, it is expected to be used not only for elections, but also as a tool to promote the activities and philosophy of each candidate.
Inquiries have been received from political party officials and incumbent legislators, and it is anticipated that in the future the system will be used not only to disseminate information about the election as a whole, but also as a tool for candidates to publicize their activities and philosophies.
The way elections and voting are conducted will change with the "new lifestyle" brought about by the Corona disaster, including campaigning and polling place management that avoids the "three-density" environment. Various measures must be taken to ensure that candidates have opportunities to disseminate information and that voters have access to the necessary information.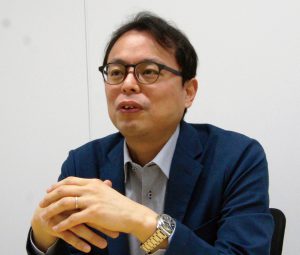 Company information
Company name: VOTE FOR Inc.

Position: Representative Director
Name: Mitsuru Ichinosawa
Industry:
[Media and Advertising Business]
Advertisement placement on websites, mail magazine advertisements, etc.
Support for CSR and other public relations activities of companies and organizations
[Solution Business]
Development and operation support for voting systems
Development and sales of open data utilization systems
Support for promotion of open data by local governments
[Consulting Business]
IT consulting in the public sector
Policy and election consulting
Policy and election consulting, various surveys, proposals, and introductions
Region: Tokyo